We are a Frozen family. We have seen both films and all of the animated shorts. We have costumes, dolls, stickers, smaller dolls, coloring books, a gingerbread house- you name it. I've even gotten pretty good at Frozen-themed face paint. Between the leading ladies as the focus of the story, and my history as a high school musical geek, my love for this was practically pre-ordained, and luckily, my small associates and I love it about the same amount. We know every word to every song, and sing them loudly. Like I said, I'm a musical theatre geek, and there's no way to hit some of those high notes without going all out!
So one day, when we were driving and singing along to the Frozen 2 soundtrack, my younger associate asked me to quiet down- she wanted to sing, and couldn't hear herself over me.  My pride extremely wounded, I tried my best to quiet down.  It's not easy- these songs beg to be sung out loud, and did I mention I'm a musical geek?  But then I realized that when I sing more softly, I could hear my small associate's sweet voice much better.  And when I stopped singing all together, she got more confident, and  got louder (and sounded adorable, but I'll admit I'm biased).  Which got me to thinking about voice and listening, and making space in my classroom.  Like a blast of ice powers straight to my heart, my small associate hit upon the most important lesson (for me) of adopting more open pedagogy has been learning how to speak less, so my students have the space to speak more.  Class should not be about me belting the greatest hits of American Government (as fun as that is for me) but in making the space for students to find their own voices and hits, which they can't do if I'm talking the whole time.
Or in the words of another popular piece of streaming content on Disney +, talk less.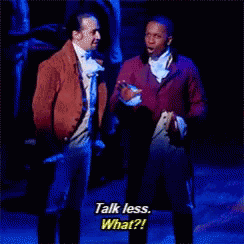 And yes, my associates are watching Frozen 2 as I typed this up. In the extremely unlikely event you haven't seen it, you definitely should. If you have already, treat yourself to a second (or 32nd, no judgement) viewing. "You are the one you've been waiting for all of your life" and "do the next right thing" are absolutely necessary moods these days..