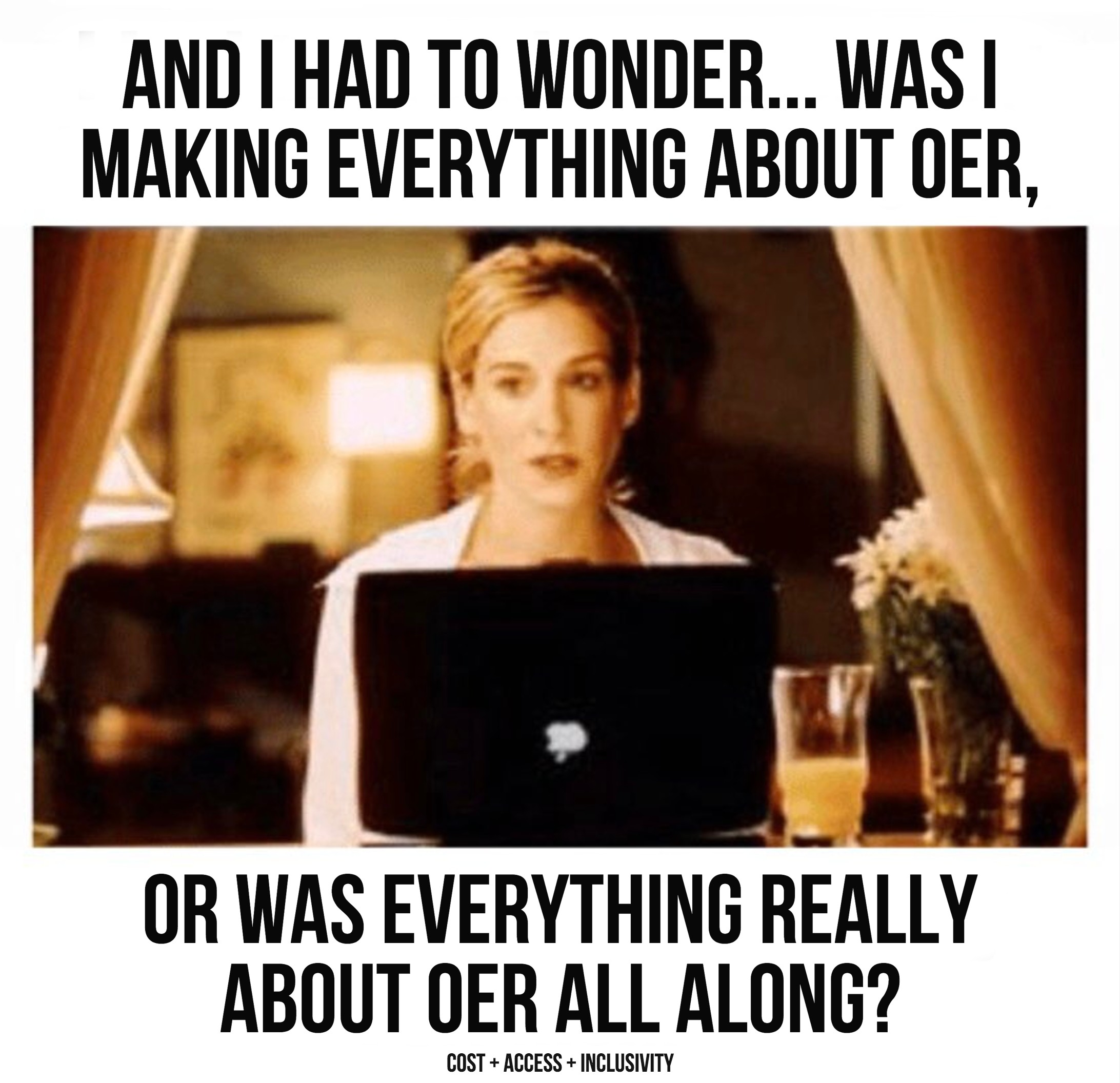 These days, Open Education is one of the things that most excites me about my job- my work in open has made me an exponentially better teacher and a better scholar (open science & open access FTW!) and has given me the chance to work with faculty and librarians across CUNY and across the world. Open has been inspiring- open has given me new research questions, new ways to see the world and make connections between my research and the classroom, and new ways to think about what I really want to accomplish in the next phase of my career.

That said, it has also been tiring! There's always something new or awesome to read or watch or research, people to talk to in person or electronically, all on top of my official teaching and research responsibilities. And on top of life and family. And this is true of everyone I know working on Open in CUNY (and in most places- is there anyone in higher ed these days who has too much time or funding? :o) Which is at least part of the reason that it took me so long to clean the 2019 data from the CUNY Zero Textbook Cost Student Opinion Survey. I'm going to share some basic analyses here to close out #OEWeek/#OpenEdWeek because it makes me so happy and I think we could all use some joy.

So far, we have 3606 (!!!) responses from 20 different campuses (!!!). A couple of us wrote a close analysis of the first semester of the data, and the main conclusions in that article are supported by the subsequent 3 semesters of data. The majority of student respondents believe they learn as well with digital materials as they do with a paper one, accessed their course materials in the first week of class or even before class started, and saw the zero cost as a major benefit of their course materials.
And this one is absolutely getting printed out and stuck to the wall of my office:

We asked this question figuring that students would only be willing to recommend zero-cost materials if they thought they were a good idea and the response is honestly going to keep me going for a long time. 97%!

There's a lot more in the survey (including where students did their coursework, what devices they used, how much and why they printed, and what they thought the benefits and drawbacks are). This data has tremendous potential, and all of it is available at http://bit.ly/CUNYZTCSurvey. I can't wait to see what some of you all do with it!

Finally, I can never adequately thank all of the students who shared their opinions in this survey, or the instructors across these 20 campuses who offered this survey to their students, or all of the OER coordinators on the campuses who sent the survey to the instructors, or all of the people across CUNY doing open education work, or all of the people around the world doing the work of open in so many different ways, but please know I APPRECIATE YOU.